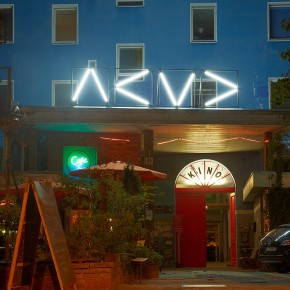 Acud Club
Veteranenstraße 21
14:00 Artist Talk
15:30 Heimer
17:00 Haiyti aka Robbery
19:00 Ziúr
21:00 Kedr Livanskyi
22:00 DJ Paypal
24:00 After Show Party
–
Nach langen Verhandlungen mit Banken und Gläubigern ist es Anfang 2014 einer Gruppe von Berliner Künstlern gelungen, dass vor der Zwangsversteigerung stehende Kunsthaus ACUD in Berlin Mitte zu retten und langfristig als Kunst- und Veranstaltungshaus zu sichern. Gemeinsam mit den bisherigen Betreibern wollen sie das Haus als einen zentralen unabhängigen Ort für die Künste in Berlin etablieren. 

Im Haus befinden sich ein Theater, eine Galerie, 2 Kinos, ein Club- und Konzertraum, ein großer Proberaum, eine Bar und zahlreiche Ateliers, die sich um einen Innenhof herum gruppieren. 

Das ACUD soll ein offenes Haus sein sowohl für ein internationales als auch lokales Publikum. Offen für ungewöhnliche und experimentelle Formate jenseits herkömmlicher Kategorien und Genres, bietet es Räume für Musik, Film und Performance, Ausstellungen, Lesungen, und Workshops und deren Verbindung untereinander. 

ACUD MACHT NEU ist das vom Musicboard Berlin geförderte Initialisierungsprojekt, um gemeinsam mit Musikern, Künstlern, Urbanisten, Kuratoren, Veranstaltern und Anwohnern das Neue ACUD zum Leben zu erwecken und damit einen der wenigen verbliebenen kulturellen Freiräume in Berlin Mitte zu bewahren.

–

Beginning of 2014, after lengthy negotiations with banks and creditors, a group of berlin artists managed to rescue the Kunsthaus ACUD in Berlin from the foreclosure sale. Together with the former carriers, they want to establish the house as a central independent arts venue in Berlin.

The house has a theater, a gallery, two cinemas, a club and concert space, a large rehearsal room, a bar and numerous studios, which are grouped around a central courtyard.

ACUD is an open house for both an international and local audience. Open for unusual and experimental formats beyond traditional categories and genres, it offers rooms for music, film and performance, exhibitions, readings, workshops and their connection with each other.

ACUD MACHT NEU (ACUD MAKES NEW) is the initialization project sponsored by the Music Board Berlin to bring the new ACUD to life with musicians, artists, urbanists, curators, organizers and residents and thus preserve one of the few remaining cultural spaces in Berlin Mitte.