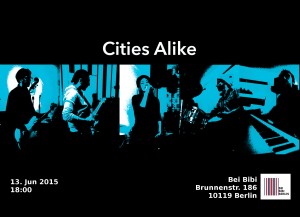 Cities alike (Pop/Urban/Funk) ist zu Gast Bei Bibi Berlin. Seit 2014 spielt die Berliner Band eigene französische und englische Songs.
BEI BIBI BERLIN ist ein Ort, um französische Kulinaritäten Kultur neu zu entdecken – kreiert von einer Französin aus Bordeaux.
Bibi entdeckt und verkauft französische Produkte, die meisten davon sind exclusiv in Berlin bei ihr zu bekommen.
—
On Saturday June 13rd, Cities Alike,(Pop/Urban/Funk)Berlin band mixing Englich and French songs,will be playing at  Bei Bibi Berlin Brunnenstraße 186 from 6 PM.
BEI BIBI BERLIN  is a space dedicated to the French culinary culture, created by a French girl from Bordeaux.Bibi prouds itself with sourcing and selling French products, most of them exclusively in Berlin.
BEI BIBI BERLIN
Brunnenstraße,186
10119 Berlin
Deutschland
https://www.facebook.com/beibibiberlin
https://www.pinterest.com/beibibiberlin
https://www.beibibi.de/