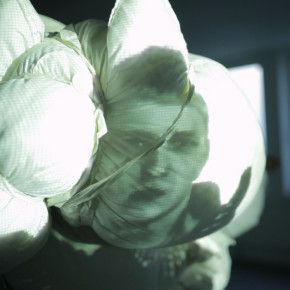 17 Uhr, Gaststätte W. Prassnik
Pseudo-empirische Studien dieses Festivals zeigen einen deutlichen Anstieg der pop-musikalischen Einzelgänger in dieser Stadt. Handjerks ist einer dieser Einhandsegler zwischen Pop, Produktion und Songwriting und ein vielversprechender noch dazu. Geboren in Oslo, aufgewachsen in Berlin, geschult in Skandinavistik, Philosophie, Film-, Literatur- und Kulturwissenschaft deuten die noch raren Klang- und Bildproben des Projekts auf einen minimalen Pop mit maximalen Momenten hin, entlang der Interessengebiete Politik, Emotion und Queerness. Insbesondere die kehlige Stimmlage hat es uns angetan, das teils dramatische Timbre, welches die subtil instrumentierten und rhythmisch aufregenden Tracks mit barocken Emotionen dominiert. Qualität, Hit-Potenzial und Entdeckungsfaktor ziemlich hoch – soviel sei an dieser Stelle versprochen.
–
The pseudo-empirical studies conducted by this festival have yielded results that show a significant increase in pop-musical self-employment in this city. Handjerks, one of the most promising of these free agents, operates between pop, production and songwriting. Born in Oslo and raised in Berlin, he was trained in Scandinavian studies, philosophy, film, literature, and cultural studies. The project's sonic and visual landscapes are constructed out of minimal pop and maximalist sound events that engage with the topics of politics, emotion, and queerness. We're particularly impressed by the often-dramatic timbre of his throaty voice, which dominates the subtly orchestrated and rhythmically compelling tracks with baroque emotionality. As far as this project goes, you can count on quality, hit potential, and a feeling of discovery.
–