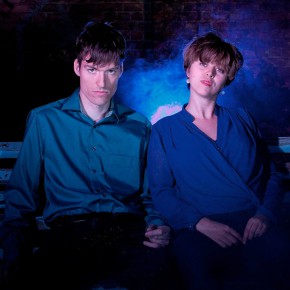 20 Uhr, Sankt Oberholz
Disco aus Italien. Klingt kitschig? Ist es auch ein bisschen, genau wie die Story von Ossi Viola und Lo Selbo, die das Duo Itaca bilden: getroffen und verliebt in Rom, gemeinsam eine Band gegründet, mit der sie jetzt auf Wolke 7 durch Berlin schweben. Böse sein können wir ihnen trotzdem nicht, denn dafür ist ihr dreamy Avantgarde-Pop einfach zu schön: ein bisschen italienischer Schlager aus den 70ern, etwas 80er-Synthiepop und Psychedelic Art-Pop, dazu eine Prise unprätentiöse Berliner DIY-Attitüde. Mit dieser Mischung schleicht sich das das Duo mit seinem am 21. April erschienenen Album "Itaca Mi Manchi" (Itaca, du fehlst mir), das auf ihre Kassette "Big in Itaca" (2013) folgt, in unsere Herzen. Und live sind die beiden sowieso unwiderstehlich, wie sie in der Sprache, in der sie sich kennen- und lieben gelernt haben, vor sich hin schmachten. Dabei überschreiten sie jedoch nie die feine Grenze zum Trash, sondern balancieren all ihre Einflüsse wunderbar aus.
–
Disco from Italy. Sound kitschy? It is indeed, and almost as kitschy as the story of Ossi Viola and Lo Selbo, the couple who make up Itaca—they met and fell in love in Rome; they started a band together; they moved to Berlin and now float through the city playing shows, on cloud 9. Still, we can't exactly hold it against them—their dreamy avant-pop is simply too wonderful. It's a little 1970s Italian Schlager, a little 80s synth pop, a dash psychedelic art pop, and a pinch unassuming Berlin DIY. The duo steals hearts like never before with the April 21st album Itaca Mi Manchi (Itaca, I Miss You), which follows their 2013 cassette Big in Itaca. Live, the two are irresistible as they yearn for each other in the language of their desires. Amazingly, though, they manage never to cross the fine line into trashiness—rather, they balance all of their influences con vera raffinatezza.
–