In anticipation of the German premiere of Montréal music documentary «A City Is An Island» we have talked to the director Timothy George Kelly. The film will be shown at Kino Babylon Mitte on Thursday, the 11th of June at 8pm followed by a Q&A with the director, musician Sean Nicholas Savage and artist Jason Harvey.
Your film illustrates how ambivalent many Montreal musicians are about self-promotion and even success. Did you encounter resistance to the project of documenting the Montreal music scene? If so, how did you convince people to be involved in your documentary?
Timothy George Kelly: There were different levels of resistance from different people. Younger artists are more often self-conscience, excited for a platform to talk and then afterwards sometimes wishing they had never done it at all. I think there is a real pressure now because of the internet, having to tour, having to have a press photo and music videos, it asks for an identity from young artists who may not know who they are yet and they are forced to cement that in recorded document that is in someone's else's control, which can result in a neurotic episode from some.
A lot of the older people who didn't want to be in the film were just passive aggressive, which I would fire back with my greatest weapon, the never ending persistent weekly email. Mauro from Godspeed You! Black Emperor straight up told me to fuck off which I thought was pretty cool. There was this strange attitude from some of the nineties and early 00s crowd that making a film about the Montreal scene would somehow reveal the secret of the place and the floodgates would open. I grew up on a farm in Australia pretty much the furthest distance from Montreal possible, it ain't a secret no more. The secret they are thinking of is just nostalgia for a time when their hangovers were more tolerable.
Most of the musicians in the film are solo artists. Is there something particularly solitary about Montreal life?
It's economics of time and money. You have to tour now, touring with one person is way more affordable than multiple – and technology, people are create huge sounds with gear that didn't exist ten years ago. Macbook Pro rock stars. And of course, winter. If you are solo, you don't even have to leave your room.
You use a lot of live performances in the film — in venues, homes, and outside in Montreal city space. Why was that important to you?
I asked the artists where they would like to play. It was a way to document the space of the city whilst giving the audience what they want from a music documentary: music.
You spend a significant amount of time on language politics in Quebec, and the tension between French-speaking Quebecois and Anglo "ex-pats" who are mostly from other parts of Canada. Not knowing French is a weirdly big aspect of living in Montreal. Do you speak French? In your film, Brendan Reed compares asking this to asking someone about their sexuality. Do you agree?
One of my first jobs in Montreal was delivering sofas, my French never really improved from what was required there. I wouldn't say Brendan is directly comparing sexuality and language, he is using sexuality as an example of something that is very important to someone's identity which could result in people feeling isolated or ashamed. Anglophones feel guilty for their laziness in not ingraining themselves in the predominant language of Quebec, but the shame comes from language politics being in the fabric of Montreal culture and the anglophone being the perpetual outsider, the voluntary outsider, the lazy outsider, which leads to for so many to be the temporary citizen. It is this that makes them eventually leave.
What compelled you to make this film? Put another way, why did you feel it need to be made?
I am a filmmaker. I had no money to make a film about something made up, so I made a film about what was in front of me.
What kind of response has it had, in Montreal and outside?
Really well. I am just happy people completely ignore the technical issues the film has and see it has a heart, it was shot on a camera that is worth $150 now so I sit in the cinema at these film festivals and just feel like a kid, a pretend filmmaker, a liar, where all the other films that play have logos of companies and state support at the end credits. It is strange how something doesn't look official until you put some kind of logo on it. Our brains love symbols.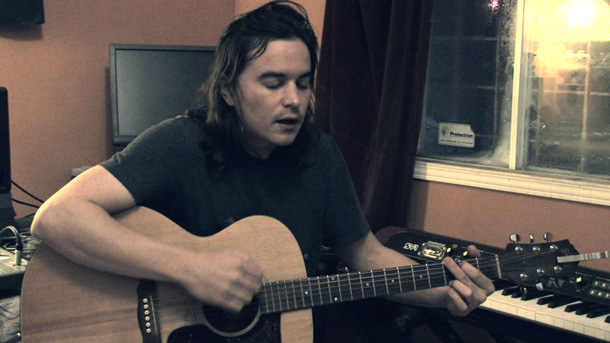 Your film is about artists in Montreal, but your voice is absent. Why did you choose not to include yourself in it? 
My voice is in it. It is everywhere. 90 hours of footage cut into 72 minutes. What is in it, what isn't, that's my voice right there.
Can you tell us a bit more about yourself?
Australian. Moved to Montreal in 2008. Now based in London, UK. Have very little patience for shit fruit. I like painting, whisky and napping.
What are you working on next?
I am making a documentary about a techno collective called John's Kingdom in Moscow right now. They are pretty interesting, all friends who somehow have a very similar sound, which in the world of Ableton and digital music creation where anyone who can work a torrent basically has an endless palette of sounds, is quite rare.
And then when I am back in London I will start another film in reaction to what Katie Hopkins has been saying about immigrants. The window of what has become reasonable to say in the right-wing press in the UK is disgusting and needs to be fought against, we are in an information war and it is very loud and very confusing and very fucked up. So I am going to make a film asking only egalitarian revolutionaries their opinions of the police, what it is to be human and if a policeman can be one. No one will care about the film of course, but it's worth trying anyway.
–
–
The premiere is presented in cooperation with Shameless / Limitless and POP Montréal.