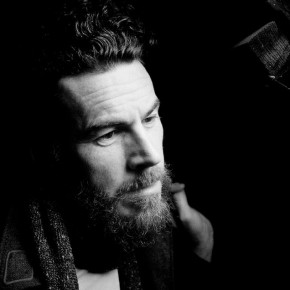 16:00 – Kaffee Burger
Für Neuseeländisches Songwriting gibt es beim Torstraßenfestival eine geheime Quote. 2012 verzückten Tiny Ruins die Z-Bar, im letzten Jahr ließ Aldous Harding im Grünen Salon den Atem anhalten. Die diesjährigen Fahnenträger der südpazifischen Liedkunst nennen sich Bannerman und im Zentrum der heute in Berlin beheimateten Formation steht Songschreiber und Sänger Ritchie Setford. Gerunzelte Stirn und Vollbart lassen erahnen wohin die Reise geht: Folk-Rock der sinistren Sorte, Americana, Alternative Country mit einer Stimme dessen Eindringlichkeit es mit Nick Cave aufzunehmen wüsste. Und auch Setford hat seine Bad Seeds gefunden: Die illustre Band überschneidet sich mit den Kreisen des Neukölln Country Clubs; mit Schlagzeug, Bass, Gitarre und Posaune werden die dynamischen Kompositionen auf der Bühne umgesetzt – dramatisch, melancholisch, ausschweifend und schließlich besänftigend. Denn die Trostlosigkeit in Setfords Texten («These are uncertain times […] You got the wrong man […] I've lost everyone») findet Halt in Pop-Song-haften Arrangements, es sind bittersüße Symphonien für nostalgische Momente.
–
There's a kind of unspoken quota at Torstraßenfestival for songwriting from New Zealand. In 2012, Tiny Ruins brought Z-Bar to its ecstatic knees; the year before that, Aldous Harding left all Grüner Salon visitors winded. This year's flag-bearer of South Pacific songcraft is the Berlin outfit Bannerman, brainchild of the songwriter and singer Ritchie Setford. Furrowed brow and beard act as generous clues: here we have a sinister species of folk-rock/Americana/alternative country equipped with a voice whose intensity could unsettle Nick Cave. And Setford, like Cave, has found his bad seeds: the band, composed of drums, bass, guitar, and trombone, intersects with the illustrious ranks of the Neukölln Country Club to bring the dynamic compositions in all of their drama, melancholy, extravagance, and placidity to life on stage. The cheerlessness of Setford's texts («These are uncertain times […] You got the wrong man […] I've lost everyone») is woven into crafty, poppy arrangements, and bittersweet symphonies for nostalgic moments and laid at our feet.
–