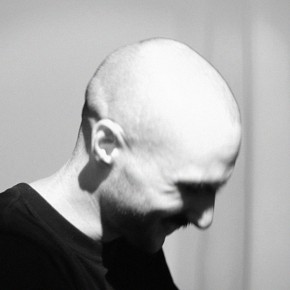 17 Uhr, Grüner Salon
Hinter der Bar des Acud Clubs steht zwischen wirksamen Spirituosen eine weiße Plattenhülle mit der Aufschrift »Are you alone?«. Sie steht dort wie ein Spiegel, fragt viel zu direkt und ohne Vorwarnung ins dröhnende Nachtleben hinein und hat so sicher schon den ein oder anderen Gast in Verlegenheit gebracht. Das In-Verlegenheit-Sein und das In-Verlegenheit-Bringen war der große Balanceakt der kanadischen Band Majical Cloudz, den Urhebern eben dieser Platte, dessen Sänger Devon Welsh war. Magische Wolken in deed, denn so nah einem das Duo emotional auf die Pelle rückte, so selten war es live zu sehen, je länger die Portraits auf Pitchfork wurden, desto mehr entzog sich die Band dem Erfolg. Denn Devon Welsh, jetzt selbst allein unterwegs, ist ein besonderer Typ. Genau wie die Plattenhülle taucht er auf wie ein Geist, stellt im falschen Moment die richtige Frage und trifft dabei ohne zu zielen ins Schwarze. Als Performer zwischen Genie und Wahnsinn ist er nervös und unnahbar, dabei aber peinlich direkt und kompromisslos ehrlich – wie Psychose und Psychiater in einem.
–
Behind the bar of Acud club, between strong bottles of liquor, there's a white record sleeve printed with the words "are you alone?" It hovers there like a mirror, prodding and reflecting far too unabashedly into the roaring nightlife. In so doing, it's sure to have brought a guest or two into destabilized quandary. Being destabilized and destabilizing are the two conflicting forces in the great balancing act that characterized the Canadian band Majical Cloudz, the producers of this record, whose singer was Devon Welsh. They were Magical Clouds indeed—the more the band got under their listeners' skin, the less frequently they played live. And the longer the Pitchfork features became, the more the band withdrew from the public eye. Welsh, who now performs on his own, is a special guy. Just like the record sleeve, he materializes as if from thin air, asking the right questions at the wrong time and hitting the bull's eye without aiming. As a performer poised between genius and insanity, he's nervous and unapproachable, embarrassingly direct and uncompromisingly honest, at once the psychiatrist and the patient.
–