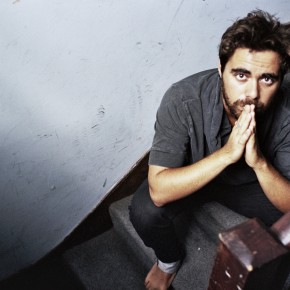 Tastenclub presents: Federico Albanese.
Ob Federico Albanese die Stücke seines Albums The Houseboat and the Moon wirklich bei Mondschein auf einem Hausboot komponierte sei dahingestellt. Denkbar ist es, die Kompositionen des Mailänders ruhen in stillen Wassers, schaukeln sanft, repetitive Klavierphrasen umspielt von dezenter Elektronik. Manchmal läßt Albanese die Leinen los, das Boot legt ab, die Strömung nimmt es mit und spült es zum nächsten Anleger. Music for Houseboats also, Brian Eno meets Erik Satie. Die Emotionen sind dabei feinfühlig und hochauflösend, die Schönheit dieser Musik liegt in der Erfüllung der Erwartungen, Spannungsbögen schließen sich harmonisch, Melodien verlieren aber finden sich auch wieder, aus dem sublimen Zusammenspiel der minimalen Mittel fügt sich eine fast kosmische Balance. Eine cineastische Dimension wohnt jeder seiner Kompositionen inne, daher wundert es nicht, dass Federico Albanese zuvor als Requisiteur beim Film arbeitete. Das Klavier nimmt er auf alten Bandmaschinen auf, fängt so Unvollkommenes und Zufälliges ein. Das deutsche Experimental-Label Denovali, welches unlängst mit dem Denovali Swingfest aus Essen im Radialstem V gastierte und zu diesem Anlass Künstler wie Oneohtrix Point Never, Greg Haines und Brandt Brauer Frick einlud, hat Albanese in sein hochinteressantes Programm aufgenommen und wir freuen uns auf ein feinsinniges Konzert zwischen E und U.
–
If Federico Albanese really composed the pieces on his album The Houseboat and the Moon in the moonlight on a river remains to be documented. Yet it is imaginable. The Milanese musician's compositions float in calm waters, gently bobbing, repetitive piano phrases  bathed by well-tempered electronic sounds. Music for houseboats, Brian Eno meets Erik Satie, sensitive emotions in high definition. The beauty of this music lies in satisfying anticipations, suspense leads to harmonic conclusion, melodies loose but also find each other, the interplay of minimal means results in an almost cosmic balance. Each of his compositions follows a cinematic plot, not surprisingly Federico Albanese has once worked at a propman at film sets. His records his piano play to a vintage tape machine, in this way capturing imperfections and serendipities. The German experimental label Denovali, which has recently brought its Swingfest from Essen to Berlin's Radialsystem V showcasing artists such as Oneohtrix Point Never, Greg Haines and Brand Brauer Frick, has taken Albanese under the wings of their always exciting program.
–