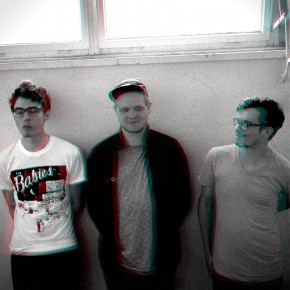 14:00 – Bassy Club
Now playing: Pigeon.
»Weil Fun und Frust eine Partnerschaft eingehen« heißt es im Beipackzettel zur Berliner Band Girlie. Fun und Frust, das alte Ying und Yang des Heranwachsens – Fun statt Frust, Frust weil kein Fun, Frust nach zuviel Fun oder endlich Fun nach zuviel Frust. Alles nicht so wichtig, schnell vergessen, lieber Spaß haben oder doch das Ende der Welt? Das Ausloten adoleszenter Befindlichkeiten mit musikalischen Mitteln ist das Motiv der Gruppe. Und auch der Methode liegen die Gegenpole Frust und Fun zugrunde: Die Verzerrer auf 12, den 4-Spur-Recorder in der Mitte und veröffentlicht auf Kassette schrammeln sich Girlie durch ihre erste EP, dass Dinosaur auf sein Junior besser aufpassen sollte. 100% Ableton-resistent, straight outta Proberaum, wären Girlie eine Jeans stände Stone Washed auf dem Etikett. Erschienen ist das Erstwerk des Trios übrigens auf dem Berliner Sympathie-Label Späti Palace, das mit ZELF, Mother of the Unicorn, Skiing und Yoga schon das ein oder andere scheppernde Highlight auf dieses Festival entsandte.
–
The album insert of the Berlin band Girlie talks about "the partnership of fun and frustration". Ah, f&f: the good old ying and yang of growing up—fun instead of frustration, frustration cuz there's no fun, frustration after too much fun, or, finally, fun after too much frustration. After all, we can't take things so seriously. Keep it chill. #1 priority is fun. Or, then again: apocalypse after all? In any case, the group's modus operandi is the exploration of adolescent emotions through musical means, and the fun vs. frustration leitmotif manifests itself even in their working method—distortion up to level 12; 4-track recorder placed strategically; a cassette release. Dinosaur, you better take care of your Junior, hey! 100% guaranteed Ableton resistant and Straight Outta (a rehearsal room in) Kreuzberg. If Girlie were a pair of jeans, they would be stone-washed. The trio's recent debut came out on what could only be Berlin's own Späti Palace, whose associates ZELF, Mother of the Unicorn, Skiing and Yoga have already worked their magic in past years at this very festival.
–