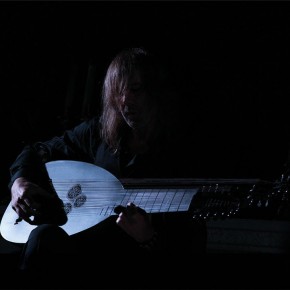 21:00 – Grüner Salon
Als Lautenspieler in die höchsten Riegen der Pop-Kultur aufzusteigen ist zweifellos ein ziemliches Absurdum. Seit fast zwei Dekaden aber bezirzt der Avantgarde-Komponist Jozef van Wissem mit jenem sperrigen Instrument seine Fans.  Unter diesen befindet sich auch James Roberto »Jim« Jarmusch, seines Zeichens Regisseur pop-cineastischer Meilensteile wie Night on Earth, Dead Man oder Coffee and Cigarettes. Für die Kollaboration mit Jarmuschs Band SQÜRL, der Filmmusik zur nachtaktiven Detroit-Hommage »Only Lovers Left Alive«, gewann van Wissem den Soundtrack-Award der Filmfestspiele in Cannes, die Londoner National Gallery beauftragte ihn mit einer klanglichen Antwort auf Hans Holbeins Gemälde »Die Gesandten« und der Soundtrack zum Videospiel The Sims Medieval trägt seine Signatur. Bei allem Erfolg ist van Wissems Musik allerdings alles andere als gefällig. Düstere Klangstudien, mulmige Gemütslagen – in zähen Spannungsbögen oszilliert der Niederländer zwischen Barock, Minimal Music und Hypnose. Der Titel der jüngsten Kollaboration mit Primadonna Obscura Zola Jesus bringt das spirituelle Abschweifen von van Wissems Kompositionen auf den Punkt: To lose yourself forever is eternal happiness.
–
The terms "lute" and "modern pop culture" might not seem to have a particularly involved relationship. Yet it is specifically with this bulky, archaic instrument that the avant-garde composer Jozef van Wissem has charmed his fans, who include James Roberto "Jim" Jarmusch (the director of pop-cinema milestones such as Night on Earth, Dead Man, or Coffee and Cigarettes) for a solid two decades. His music for the nocturnal Detroit tribute "Only Lovers Left Alive", the fruit of a collaboration with Jarmusch's band SQÜRL, won him the award at the Cannes Film Festival for best soundtrack; London's National Gallery commissioned a work from him; the soundtrack to the video game The Sims Medieval also carries van Wissem's signature. Despite all of this success, however, van Wissem's music is anything but placative. Sinister etudes and agitated temperaments form taut, suspenseful arcs with nods to both baroque and minimal music as well as hypnosis. The spiritual wanderings characteristic of van Wissem's music are aptly gestured to in the title of his most recent collaboration with Primadonna Obscura Zola Jesus: To lose yourself forever is eternal happiness. 
–