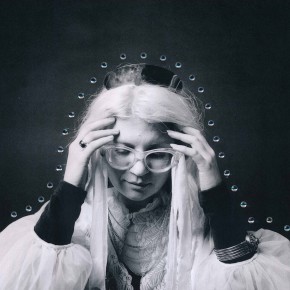 21 Uhr, Grüner Salon
»We must take a stance and identify the hidden discriminatory factors that might play a role in each society, and we absolutely must take a stance in the struggle, in which we are all bound together.« Mary Ocher, The West Against The People, 2016
Einem Album einen soziopolitischen Essay beizulegen ist für Songwriter eher ungewöhnlich. Das Wort ungewöhnlich im Zusammenhang mit Mary Ocher zu verwenden ist dagegen eher… gewöhnlich. Denn was die israelisch-russische Künstlerin seit etwa zehn Jahren im Berliner Underground auf die Beine stellt entzieht sich den üblichen Kompetenzen ihrer Profession: Ocher speist ihren scheinbar außerirdischen DIY-Kosmos aus privaten Empfindungen und gesellschaftlichen Anliegen, verzahnt ihre Biographie mit dem geopolitischen Geschehen und schafft dabei einen Spagat aus Komplexität, Emotion und Relevanz, der nur sehr Wenigen mit pop-musikalischen Mitteln gelingt. Auf ihrem fünften Album The West Against The People, laut einer Vorhersage des Fact Magazins »One of the best albums of 2017«, fokussiert Ocher die Themen Autorität, Identität und Konflikt mehr denn je. Produziert mit Hans Joachim Irmler (Faust), gespickt von Gastauftritten ihrer Band Your Government, Die Tödliche Doris und Felix Kubin, scheint es kaum übertrieben von Ochers bis dato wichtigstem Werk zu sprechen. Wir freuen uns gerade zur aktuellen Ausgabe des Festivals außerordentlich auf eine seltene Solo-Darbietung am Flügel – denn wenn hier jemand den Itch fühlt, dann ist es Mary Ocher!
–
»We must take a stance and identify the hidden discriminatory factors that might play a role in each society, and we absolutely must take a stance in the struggle, in which we are all bound together.« Mary Ocher, The West Against The People, 2016
It's pretty abnormal for a songwriter to supplement an album of music with a sociopolitical essay. Then again, it's pretty, well, normal to use the name Mary Ocher and the word "abnormal" in the same sentence. What this Israeli-Russian artist has been building for almost ten years in Berlin's underground goes above and beyond her profession's standard territories. Ocher fashions her seemingly otherwordly DIY cosmos out of private discoveries and societal concerns and interweaves her biography with geopolitical events, thereby achieving an equilibrium between complexity, emotion, and relevance that only very few in pop music are capable of. On her fifth album, The West Against The People, forecasted by Fact Magazine as "One of the Best Albums of 2017," Ocher zeroes in on the themes of authority, identity, and conflict more than she ever has before. Produced with Hans Joachim Irmler (Faust) and graced with guest appearances by Die Tödliche Doris, Felix Kubin, and her band Your Government, there's no doubt the release counts among Ocher's most important works. As we approach the next edition of the festival, we're especially pumped for a rare appearance on solo piano—after all, if anyone among us feels the itch, it's definitely Mary Ocher!
–