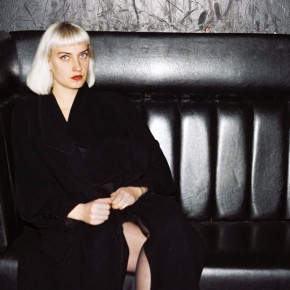 Sonntag, 14.Juni 20 Uhr, Volksbühne:
Molly Nilsson ist die tollste Alleinunterhalterin der Stadt. Wenn die ehemalige Garderobenfrau des Berghains den CD-Player einschaltet und zum Mikrofon greift erlischt das Gemurmel. Männer und Frauen himmeln sie gleichermaßen an. Die Diskokugel steht still wenn ihr silbernes Haar den Raum erhellt. Oh, süße Melancholie! Oh, rettende Nostalgie! Oh Molly, Du Ikone dieser Stadt, Königin des Undergrounds, Star of the Internet und Blaupause für so vieles was nach Dir kam. Fünf Alben hat die Schwedin in Neukölln auf ihrem eigenen Label Dark Skies Association veröffentlicht. Die ersten Exemplare kursierten noch auf gebrannten CDs. Molly gibt keine Interviews, sie trägt schwarz und ist viel auf Reisen. Eine unnahbare Performerin ist sie. Bewegungslos steht sie im Rampenlicht, tief ihre Stimme, billig die Beats. Camp ist das, wie es campiger nicht sein könnte. Molly Nilsson ist die Diva im Dispo, der Herzschmerz ist echt, das Spektakel selbstgebastelt. Eine herrlich durchschaubare Inszenierung, ein überaus charmanter Glamour, der (und so soll es sein!) es nicht vermag die Authentizität zu verhüllen, die ihre Musik ausmacht. Denn wer Molly aus ihren Videos kennt, kennt sie albern und charmant, verträumt oder nachdenklich. Es sind verwackelte Einblicke in ihr Berliner Leben, Abende mit Freunden, nostalgische Zugfahrten, Grimassenschneiden und Riesenradfahren. Molly ist eine faszinierende Persönlichkeit, distanziert und zutraulich, echt, unecht, flüchtig. Jetzt ein funkelnder Diamant dann eine von uns. Wir freuen uns auf Songs von einem neuen Album im Theaterlicht der Volksbühne.
–
Sunday, June 14th, 8pm, Volksbühne: 
When former Berghain check girl Molly Nilsson turns on the CD-player and approaches the microphone, all murmur stops. Men and women alike adore her, the mirror ball stands still when her silver hair lightens the room. Oh, sweet melancholia! Oh, saving nostalgia! Oh Molly, icon of this city, queen of the underground, star of the internet and blueprint for so many to come. Molly Nilsson has recorded five albums and published them on her own label Dark Skies Association, with early copies circulating on CD-Rs. Molly does not give interviews, she wears black and travels a lot. She is an aloof performer, poised in the spotlight. Her voice is cool, her beats are cheap. Camp as it couldn't be more campy. Molly Nilsson is a DIY-diva, her spectacle is handmade. A wonderfully obvious staging, a modest glamour which (and that's the beauty of it!) can't quite mask the authenticity that lies in her music. Anyone who knows Molly from her videos knows a different woman, silly and charming, dreamy and contemplative. The clips are shaky impressions of her Berlin life, evenings with friends, nostalgic train journeys, making faces and riding the ferris wheel. Molly is a fascinating personality, both distant and confiding, genuine, artificial and elusive at once. A sparkling diamond and one of us. We're looking forward to hearing songs from a new album on the big stage of Volksbühne. 
–