Round two of our Berlin based acts to watch for this years Torstraßen Festival is 케이프 (Cape). Maybe I'm an idiot (I most definitely am) – but doesn't their name just make you want to jump a plane to some bustling Asian flavoured city, and never come back? I'm voting on Seoul. But I digress – here a few things you need to know about the duo based in Berlin.
– Old mates are the would-be result if Grimes and K-Pop (yes the entire genre) were to procreate.
– They openly follow two rules in music:
1# Form Follows Function – making music like building houses: take a component away, the building collapses.
2# Learn From the Old Masters – influences range from italo disco, eurodance and k-pop to lo-fi and ambient. God bless the Internet, and everything you can find there.
– They don't have a Facebook (or at the very least, I cannot locate it).
When these delicious creatures aren't trolling the www. for new sounds they are probably learning the dance moves to Hyuna's Bubble Pop, chewing chewing gum or simply drinking instant coffee, as there is something about the taste of not real (but real) coffee that reminds them of their youth, probably.
This year 케이프 (Cape) are playing Torstraßen Festival – so I threw a handful of questions at them. For those that don't know me, let's be perfectly clear – I don't ask hard hitting questions about music.. This is mainly because (technically) I don't know the first thing about it. I like what I like – and then wonder…. "What do you reckon that artist still hopes we are doing in 2040? I hope Twerking is still a thing, and I can do it."
So without any further carry on – let's meet 케이프 (Cape), the second of 6 in what we lovingly call "Lucy vs. Torstraße." Hit it.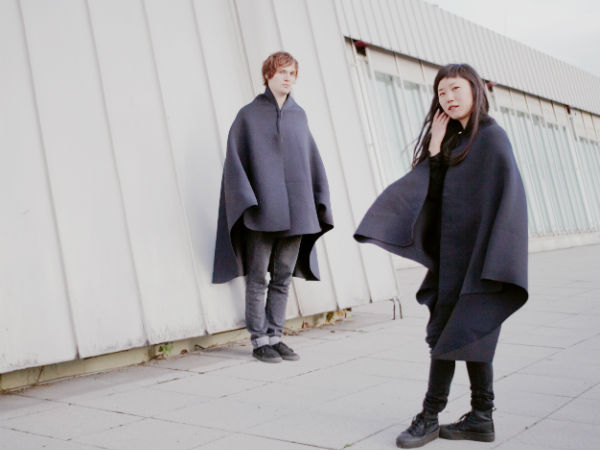 L: You are an area of Berlin, what are you – why? – I'm everywhere outside the ring-bahn – mostly because I'm trashy, and people secretly like it.
C: definitely the one with the most exciting geometrical shape.
L: You can only drink water and one other drink for the REST OF YOUR LIFE? What's the other drink?
C: Orxata, the elixir of the gods.
L: If you were a traditional German meal – what are you, why?
C: yuk German food … yuk Germany!
L: If you could be any moment in history, what would you be – and why?
C: when Ryan Gosling looked into our eyes and we understood everything (but this is a vision from the future)
L: You are from Berlin, where do I meet dudes?
C: We don't meet dudes.
L: If you could bring any item of clothing back with you from the 90's – what are you representing?
C: Will Smith's shorts! so fresh, so princely, and so Bel-Air
L: If you could meet any Berliner ever to have graced this fair city, who would you meet/ why?
C: Def. Max and Stine of Easter – they know where to get good food!
L: It's the year 2040 – what do you hope we are still doing? I hope that Twerking is still a thing, and I can do it.
C: This pizza tastes funny
L: It's a Sunday in Berlin, what are you doing? – because you definitely aren't doing the food shopping.
C: Feeling hungry because we didn't do the food shopping on Saturday
L: Tell us something you deem relevant.
C: <3 http://actuallygrimes.tumblr.com/post/48744769552/i-dont-want-to-have-to-compromise-my-morals-in-order
---
«Lucy vs. Torstraße» is blogger Lucy Jasper a.k.a. «Lucy vs. the Globe» talking to artists performing at #TSF13. All interviews are co-published on her blog: www.lucyvstheglobe.com

Photo by Matthias Heiderich.